Apple's latest product HomePod is hitting the market on February 9, 2018. Apple has started the pre-orders and it is time to know about this new product from Apple alongside its technical features.
Apple HomePod:
We all know Amazon's Echo, a smart speaker that can be used as a search engine, alarm and as a speaker to play your music library. Echo can answer questions that you ask using search engines and can read them. The voice command can be triggered by saying "Hey! Alexa". A fairly revolutionary product which might look like a silly experiment for our future generations when more powerful A.I. devices are introduced. Apple HomePod might be just that, one step ahead of Echo.
Apple quoted: "HomePod, the innovative wireless speaker from Apple, arrives in stores beginning Friday, February 9 and is available to order online this Friday, January 26 in the US, UK and Australia. HomePod will arrive in France and Germany this spring."
So what does HomePod do?:
So far, we've been told that HomePod can do what Echo does but better. HomePod can play ambient music even if it is kept next to a wall (Images below). Alongside that, HomePod can do what Siri does generally including being an assistant with answers to all your questions.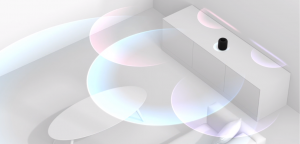 HomePod will support devices that supports AirPlay 2 or in simple words, Mac and IOS. Unfortunately, HomePod cannot be used as a Bluetooth speaker and only stream media through AirPlay 2.
HomePod will always require a constant electricity despite us thinking that it will also have a battery. HomePod also adjusts itself to play sounds by automatically optimizing your environment so that you don't have to have the baffle the volume.
HomePod Specifications:
Apple's A8 system-on-a-chip so that streaming music is as fast and smooth as possible. The Microphones point at directions so a music is not specific with its direction.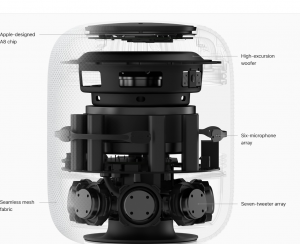 Other specifications:
Memory 1 GB RAM
Display 272 x 340 LED matrix
Input Voice commands
Connectivity 802.11a/b/g/n/ac Wi‑Fi with MIMO
Dimensions 6.8 in × 5.6 in (170 mm × 140 mm)
Weight 5.5 lb (2.5 kg)
Priced $349 retail Apple HomePod comes with two colors, white and space grey and will be shipped from February 9, 2018. Pre-Orders can be done here.
Tell us if you'll be looking forward buying HomePod soon and also if this will be better than Amazon Echo in the comments section.