After Samsung Galaxy S8 impressing the market with its stunning design last year, we are nearing the launch of Samsung Galaxy S9 this February.
More neutral thoughts than positives so far as Samsung Galaxy S9 and Samsung Galaxy S9 Plus are merely just improvements of their previous versions, however let's start with a positive note.
It is high time to start looking into the upcoming Samsung Galaxy S9 and Samsung Galaxy S9 for the AI chip and its potential Neural Processing Unit (NPI) technology. In layman terms, this chip will help your automation. Apple, Qualcomm and Huawei have already adopted this cool feature. This doesn't mean that your phone will start thinking by itself and find ways to destroy you (Not Yet!). This chip will gravely improve automate processes and save lots of energy which will lead to your battery optimization. This chip stops the dependency on the cores and carry out the load on its individual cores to help the performance. Aside these, the chip is already used for FaceID, Animoji and few third party facial recognition apps with Apple.
NPI is not the selling point alone. Samsung Galaxy S8 is already awaiting Android 8.0 Oreo update which directly makes us think that Samsung Galaxy S9 will feature Android 8.0 Oreo at launch. Hardware improvements are surely something to look for. Super-Slo mode, IP68 dust and water resistance return this year. The battery size is also improved and combining the AI chip, the battery life will and surely improve. Stereo speakers are introduced but don't stop right there AKG bundled earphones are rolled out as well (possibly version 2.0). Camera looks really good with a stunning 12 megapixel F2.4 aperture and a rumored 1000 FPS but less likely. Samsung is also sticking with an audio jack and microSD card support. Wireless charging would be cheerful.
On a neutral perspective, the 8MP front camera does not excite much nor make us frown. The design looks sleek but raises questions such about its durability. Samsung Galaxy phones are known to have this limitation where they look immaculate at launch but wear out as time progress making us invest on accessories, by the looks of the leaked images, the same story might continue here. Snapdragon 845 and Bixby AI's little involvement does not impress us to reach the selling point.
4GB RAM/6GB RAM seems to be a problem. The news suggests that Samsung Galaxy S9 will ship with 4GB/64GB and 4GB/128GB and Samsung Galaxy S9 6GB/64GB/128GB/256GB variations.
This is surely an improvement from S8 which one should expect but with certain lazy moves, Samsung Galaxy S9 and Samsung Galaxy S9 plus gives us an impression that this can end up surely as a cashgrab. Samsung has surely learned their lessons with exploding batteries so less blame on 3500mAh battery capacity but this time with options to surpass the heat seal.
Technical Specifications (Leaked):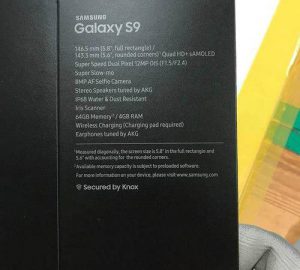 Breakdown and latest update on leaked specs:
– 5.8in / 6.2in QHD+ Super AMOLED curved display (570ppi / 529ppi)
– Android 8.0
– Qualcomm Snapdragon 845 (US) / Samsung Exynos (UK)
– 4GB RAM / 6GB RAM
– 64GB/128GB / 64GB/128GB/256GB storage
– Cat 18 LTE support (1.2Gbps download speeds)
– Rear-mounted fingerprint scanner
– 12MP Dual Pixel camera with OIS (f/1.5, f/2.4) / Vertical dual rear-facing camera
– Bixby AI assistant with dedicated button
– USB-C, 3.5mm headphone jack
– Wireless charging support
– IP68 water and dust resistance
– Built-in FM radio
– Updated DeX docking station
Finally, Samsung Galaxy S9 and Samsung Galaxy S9 Plus are phones to surely look for but with A8 and Note 8 around the block, is this something that we excited about? Let us know on the comments. Are you excited for Samsung Galaxy S9 and Samsung Galaxy S9 Plus' release or are you going to wait for something better?
Samsung Galaxy S9 and Samsung Galaxy S9 plus has been set to release late February and the first line of shipments will reach within April.